For over half a century, the students of MACU have organized Sneak Day every academic year. Sneak Day is a time when the students "sneak" off-campus for a day of fun and relaxation.
C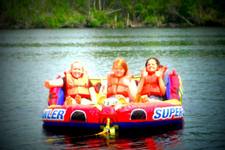 urrently, the seniors on the Student Life Committee plan and organize a sneak day between the third week and the sixth week of the fall semester at a location within an hour of the campus. The committee keeps the specific date and location a secret. They may awaken dormitory students any time after 4:00 a.m. Off-campus students may opt to be notified at the early morning hour, or may choose to find out when they arrive on campus that day. The committee is responsible for all provisions including food, recreation, devotions, and transportation of students.
All classes except evening classes are canceled for the day to enjoy picnicking, recreation, and fellowship. All of the Mid-Atlantic family is encouraged to attend. However, faculty and staff are not to join the group before 9:00 a.m. with the exception of the Student Life Staff and any other staff who may have been asked to do a specific job.